This time it's really the presentational and functional aspects of this site I'm anxious to improve.
Regarding the books (compilations) it's all change here. I was informed that the printing and distribution costs were to rise dramatically and I would have to increase the retail prices by as much as 60% to cover my costs on Amazon! – This I wasn`t prepared to do, so I've cancelled the 'Global Distribution' which now means they are only available on the publisher's website at a much more reasonable price. Take a look – https://www.lulu.com/spotlight/infoatcontentdeliverydotcodotuk
On Freedom's Wings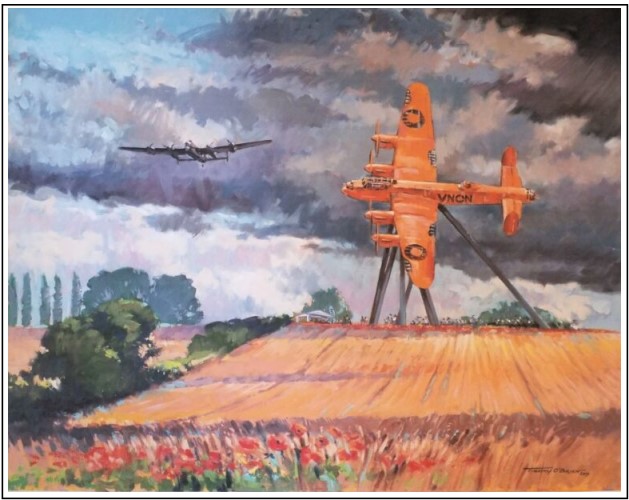 I am excited to report that the Lancaster installation is now beginning to take shape.
The Bomber County Gateway Trust is a Registered Charity with the object of designing, constructing and installing an iconic landmark art installation on the county border of Nottinghamshire and Lincolnshire. To be known as 'On Freedom's Wings'
The area on the A46 immediately North of Brough and close to Collingham represents the natural Gateway to Lincolnshire from the A1 and other major road networks.  Many major approach-roads to other counties and cities in the UK feature landmarks such as the Angel of the North in Tyne & Wear, the Horses in Falkirk, Sheffield's proposed Man of Steel, the Kent Horse and the Wrexham Dragon.
Lincolnshire is inextricably linked to aviation and in particular its home to the RAF in the Second World War.   Significant among the contributions made by the county are the achievements of Bomber Command despite this section of the Royal Air Force being unfairly snubbed and maligned for a number of decades.
In 2012, Bomber Command's extraordinary contribution and sacrifice was finally recognised by the erection of a £6m memorial in Green Park, London and the new Bomber Command centre, at Canwick Hill near Lincoln also represents further welcome recognition.
The Bomber County Gateway Trust is providing a link to this heritage right on the county border.    The structure is a permanent art installation, being a full-sized representation of an Avro Lancaster Mk1 Bomber constructed from a steel frame, mounted on a slim steel support structure to give the impression that it is in flight on the horizon.
The Landmark will be seen by more than 34,000 drivers every day on the A46.
To learn more or to see how you can become involved please follow the link below – it's a great project with a dedicated team in charge.
https://www.bombergatewaytrust.co.uk/
That's it for now – thanks for looking in.