I finally finished those essential updates to my UK Airfields website and can finally focus again on the aviation adverts database and this blog at last.
More precisely I've just uploaded some 200 previously missing items from the 1920's – 1924 and 1929 in particular.
Authentic un-butchered Magazines from this period can be hard to find and I still have a few odd gaps to fill, so any leads would be most welcome.
I think it's fair to say the the early 1920's were a lean time for the industry and the country for that matter. Money was tight for investment, government contracts were few and private owners with the cash to buy new aircraft were almost non-existent. So the Lympne Light Aircraft Trials of 1923 and 1924 in particular were welcomed by all and promised to go some way in reviving public interest and promoting the civil aircraft industry.
Economy was the order of the day and the low powered engines available must have proved challenging for the airframe designers. I can`t help feeling that some of these Ultralight aircraft must have been a bit of handful for their pilots to fly.
Things did get better though and by the mid to late 1920's some interesting new types were coming to market with offering for all pockets.
As always de Havilland gauged the market just right and in 1925 gave the public what they actually needed in the shape of the D.H.60 Moth and Avro's Avian and the Desoutter proved to be real contenders as well, but these models were sold in the £700-£800 price bracket which put them well out of reach for all but the most wealthy aspirant private owners.
If private ownership was going to flourish not only low running costs but safe flying characteristics were key marketing features.
In 1929 you could buy a Glenny & Henderson Gadfly for £360 or for an extra tenner you could have it fitted with "Pearson Rotary Ailerons."
I must confess I'd never heard of these before but as far as I can make out they were essentially ailerons that could be rotated to a higher drag position thus allowing for lower safe approach speeds and a better view on landing – i.e. what we now refer to as flaperons.
I was also much impressed by the appearance of the Savage-Bramson Anti-Stall Gear… It was in effect a Stick Shaker 1928 style.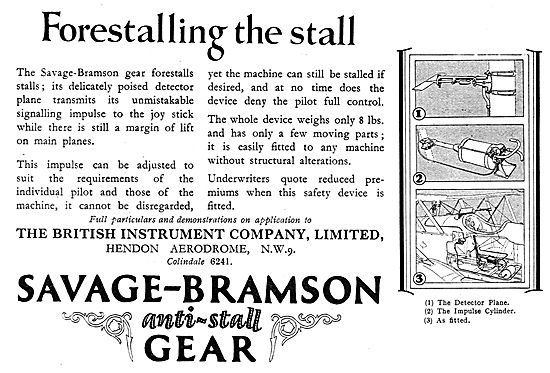 However first prize for their contribution to flight safety must go to Handley Page for their Patented Slotted Wing And Controls – almost their entire advertising output for 15 years was devoted to promoting them!
Check this link for possibly the most direct marketing messages of the age. Handley Page Slots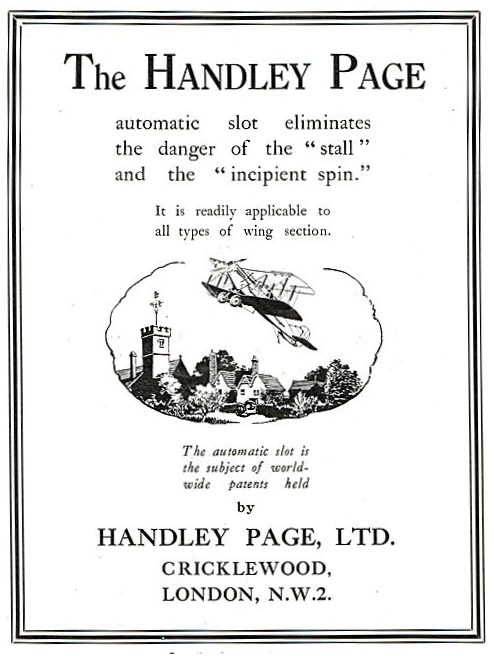 That's it for now… back to the 1930's now.